Mother's Rest
Day Retreats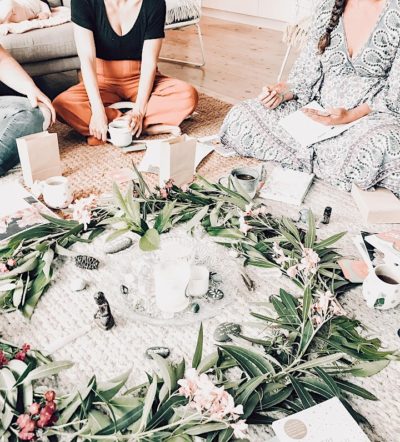 Supporting mothers to reset their overwhelmed nervous systems
Listening circle, nourishing food, self care tips & restorative yoga nidra
Motherhood can be full of joy, happiness and adventure. It can also bring up a lot of feelings include fear, exhaustion, overwhelm and anger. Mothers are feeling the impact of 3 years of uncertainty and disconnection as well as the village-less society we are in that can create feelings of loneliness.
Nervous systems are in chronic state of dysregulation (fight/flight/freeze) and many women find it hard to prioritise their own needs over those of their children, family and community.
This 4 hour retreat is a chance to reset your overwhelmed nervous system and feel supported in your mothering journey.
Listening circle: A chance to hear a little of Alita and Helen's story of motherhood, the highs and lows and challenges that brought us growth raising 6 children between us. A space to share where you are at and what you are needing most in this season. Or simply listen and feel the magic of hearing women share their stories.
Nourishing food: A vegetarian lunch to warm your heart and belly. Tea and sweets. And extra time for connection with other mothers and Alita and Helen.
Realistic self care tools shared throughout the event
Restorative Yoga Nidra: no movement, just rest, breath, surrender and reset.
Benefits of joining this spring day retreat include:
Feel less alone in everyday motherhood
Feel connected again in a supportive space
Come alone and meet new people
Bring a friend and support each other
Calming and restorative connection
A focus on your vital role as a mother
How to nurture and get YOUR needs met
Understanding self compassion and why it will help you through the hardest moments of parenting and life
Tips to support you when you are struggling: when you shout, flip your lid, yell, scream, rage, run away, feel anxious and all the intense feelings motherhood brings up.
Details:
2024 dates coming soon
12.00 to 4.00pm Saturdays
Payment options:
*Early bird price $97
*Full price $127
Includes:
12.00pm Opening
Welcome, Introductions, grounding practice, Chai and settling in.
12.30pm  Nourishing lunch and connection
Nourishing vegetarian lunch provided by Pachamama Catering. Plus sweet treats and teas.
Wholesome and delicious, Pachamama Meals are cooked using local, organic and fresh ingredients wherever possible, some are even grown in their own permaculture garden.
Discussion and connection.
1.30pm Listening Circle
A chance to listen, share, and feel connected and less alone in your mothering journey.
Helen and Alita will share little insights on self care, softening expectations and self compassion throughout the circle as needed.
Breakout mini groups for more connection and sharing on feelings, needs and vision.
3.15pm Restorative Yoga Nidra Practice
Yoga Nidra is a form of guided meditation also known as "yogic sleep" or "effortless relaxation". Deeply relaxing and soothing for the nervous system.
4.00pm Close and transition home
We highly recommend allowing some time between close and returning home to take a slow walk on the beach or some time for yourself to journal.
Babies in arms welcome.
Nourishing vegetarian lunch provided plus sweet treats and tea.
Facilitators
Alita Blanchard, Parent Coach and Circle Facilitator
Based on the NSW Central Coast, Alita is a dedicated, honest and nowhere near perfect mother of four boys (including one in the stars) who love to rumble and ramble in the outdoors . She is a trained Rites of Passage facilitator, Women's Circle facilitator and nervous system-informed Parent Coach.
Alita supports and guides mothers in their transformation through motherhood (matrescence) and helps to bring awareness to their own needs and emotions so they can feel more aligned, aware and connected to themselves and their children.
Instagram: @alitablanchard_parentcoach
www.theawaremama.com.au
Helen Macnair, Yoga teacher and owner of Umina Beach Yoga
Helen Macnair's yoga journey began in 1990 in her early 20's. She began teaching in London in 1997 and is a registered senior teacher with Yoga Australia. Helen owns and manages Umina Beach Yoga, teaches weekly classes at the studio, runs regular yoga retreats both in Australia and internationally, and the Bella Mamma postgraduate yoga teacher trainings.
During her first pregnancy, Helen began her journey into the world of yoga for pregnancy, birth and the postnatal period. In 2005 she trained as a Doula with Michel Odent, the French Obstetrician, and completed her Birthlight pregnancy and post natal yoga diploma with Francoise Freedman. Helen is passionate about her work with women and supporting them through this magical but often challenging time.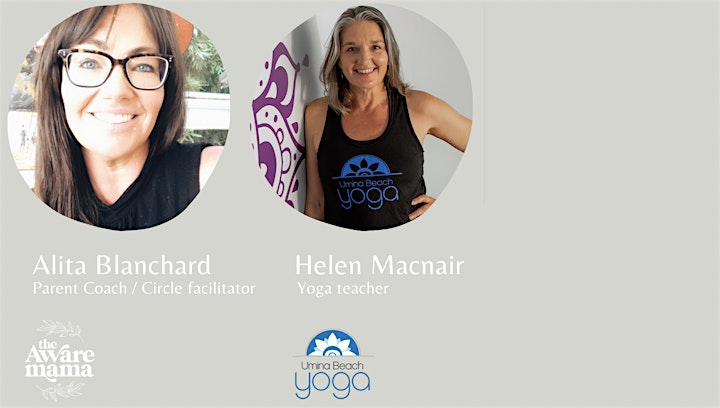 Payment
You can register through EventBrite or contact the Alita to make payment.
Contact Alita Blanchard on 0410 324 042 or alitablanchard@gmail.com to organise payment direct via bank transfer or credit card.
Accessibility
I acknowledge the situation of many people in financial stress that may need respite in these times of great need but are unable to afford this event or organise care. If you are disadvantaged in some way but feel greatly in need of motherhood support and connection, please contact the organiser to discuss assistance and/or alternative support I might be able to offer.
What to bring
Water bottle
Cardigan, socks and light blanket – ensure extra cosy
Bolsters and cushions are provided for floor seating. We will move regularly. If you require chair seating, please let me know at alitablanchard@gmail.com
Cancellation and Refund Policy
Covid 19 – full refund if the event must be cancelled due to Covid.
If you cannot attend the workshop please cancel as soon as possible. The following refund policy is strictly adhered to.
Cancellation up to two weeks prior to the event – Full refund.
Cancellation within 14 days prior to the commencement of the workshop – No refund but registration can be transferred to another person. To transfer your registration please email alitablanchard@gmail.com
Disclaimer
The intention of the workshop is to provide support and to build awareness for participants.
Terms and Conditions
Please note that information about the event and venue are subject to change and cancellation. In the event that this workshop may have to be cancelled or postponed, we will inform you directly via email as soon as possible.